newbie
Hi all .. I realise most of you have finished or are finishing.. so I guess I'm the baby of the group.
I just bought my pattern and am about to cast on my swatch (yes, I'm slow) for my cardi.
I'm using Rowan's latest yarn:
Classic Cashsoft DK
and I'm making it in two main colours: Red and Black, but with some Off-White trims.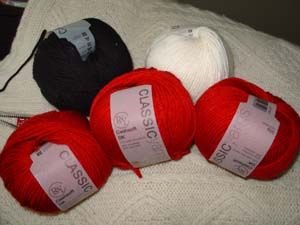 As a newbie at this, I'm so glad I have your footsteps to walk in.. I'm learning as I go and I hope to get to know all of you at the same time.
whois me? well - I'm a Toronto mummy to a sweet 8 month old babe, Lara. I spend my days knitting, blogging, and playing with Lara. To keep me extra busy, I work from home for different NGOs working on communications activities. I'm still new in Toronto and don't know many people in the city... but am always looking for knitters and mothers to make friends with. This is my first knit-along.
nice meeting you - happy easter-egg hunting y'all!