My two cents (or colors) *smile*
Hello,
My name is Stacey and I just recently joined the knit along. This will be my first cardigan so I'm pretty excited to get started. I also just love the pattern. I've been knitting for a little over a year now and I'm hooked. I have one daughter who is 4 years old and keeps me busy and I just recieved my bachelor's degree in business from Mount St. Mary's College. Ok, that's the quick and the dirty on my life story *smile* You can visit my
blog
to see what else I'm working on.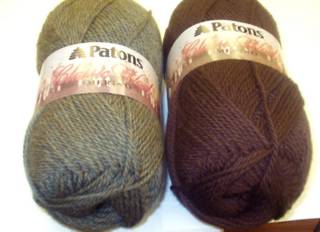 I have decided to use
Patons Classic Wool
in Chestnut Brown for the main part of my sweater and Tree bark mix for the sleeves. I don't know if you can really see how well the colors go together here, but trust me, it's nice *smile*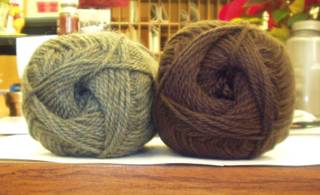 Here is another shot of the yarn, the tree bark is kinda greyish, brown, green in color so this is pretty close to what it really looks like. I plan to swatch tonight for gauge and then I'm off! *smile*