I started mine!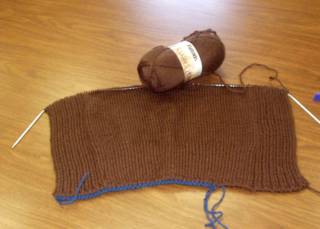 Well, I couldn't help myself. I started knitting my ribby this Saturday. I really like the pattern and it's a quick knit. This was done in about 3 hours of knitting and it's already 11" long. What you can see here is exactly 1 skien of the Classic Wool and I'm making the biggest size. It seems a little too big to me right now, but I plan to make another so if this one is too big that's ok, it will just be my comfy cardigan *smile*
I finally found some instructions for the tubular cast-on on
Flor's website
. Here is a close-up of the cast on with the waste yarn still in...
Here is it after ripping the waste yarn out. I really like it, it gives a nice finished edge. I will have to use this again. It was not difficult either.
-Stacey
www.staceysstash.blogspot.com